8 Common Problems with Boilers! Do You Need Boiler Service in Ann Arbor?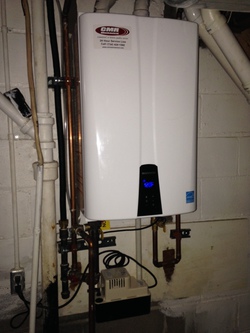 Are you hearing frequent noises coming from your boiler?
Is your radiator cold?
Do you have a boiler, but finding it hard to locate a reputable place to get it serviced?
We understand your frustration when you're trying to find a reputable technician, because there are so many out there! Our technicians at CMR Mechanical are highly trained professionals who are constantly continuing their education through ongoing training, so they stay up to date, assuring you the best service available.
We consistently see the same problems with boiler systems. However with proper maintenance and care the following problems can be avoided, including:
Pressure loss
Kettling
Loud noises
Defective pump
Leaks
Corrosion
Blockages
Valve problems
If you're still having any of the above problems with your furnace, it's important that you contact an experienced technician right away for boiler service in Ann Arbor! We'll send a professional to evaluate your existing boiler and explain your options if it needs replacing.
Frequently Asked Questions
How do I know what size boiler I need?
Every house is different. A good contractor will not size your equipment solely on square footage, nor will they assume your existing equipment was sized properly. When you receive boiler service in Ann Arbor, make sure whomever you hire correctly sizes your home for proper efficiency. If your boiler is the wrong capacity, problems can result.
My boiler isn't working. What should I do?
If your boiler stops working, you should check that the thermostat is working, check that the power source is running to the unit, and refer to the trouble shooting section of your owner's manual. If you're unable to find a solution, contact CMR Mechanical for boiler service.
Does my boiler require routine maintenance?
Yes, every boiler needs some routine maintenance. If you're unsure about what that entails, refer to your owner's manual. After you read your owner's manual, and you're still unsure, contact CMR Mechanical for a consultation on routine boiler maintenance.
100% Satisfaction Guaranteed Boiler Service in Ann Arbor
Call us today at 734-424-9555 to schedule an appointment. We'll measure your home and survey your needs to recommend the correct boiler to maximize your comfort. We're committed to providing you excellent service. In fact, we put our 100% Satisfaction Guarantee for equipment and all services in writing!